NEXT STORY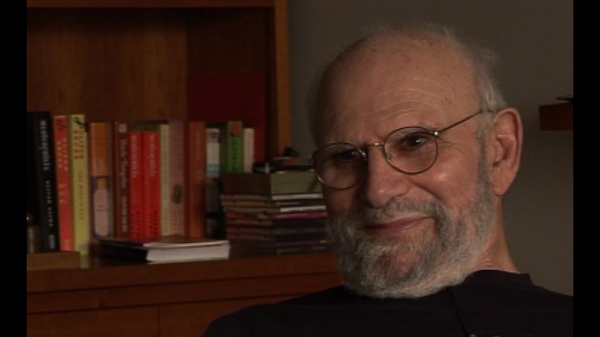 Being approached by Bob Silvers
'The longest running psychoanalysis on record'

1
...
18
19
20
21
22
...
36
Going back to the 1960s, when I came to New York I was dangerously drug-addicted. Perhaps addiction isn't... isn't the right word, but I would take huge doses of amphetamine every... every weekend, and these were potentially fatal doses. I sort of specialised in overdoses. On the last day of the year in 1965, I looked at my... my then emaciated face in the mirror; I'd lost something like 60 or 70 pounds in three months. Amphetamine diminishes the appetite and you lose interest in eating. I... I had a sudden sober moment on New Year's Eve in '65; I looked at myself in the mirror and I said, 'Oliver, you will not see another New Year's Day unless you get help. There has to be some intervention'. And then I took myself along to a... a psychiatrist, a psychoanalyst, whom I… under whose piercing but benign scrutiny… no, I don't like that.
[Q] How did you find him, by the way?
I… when I was in Los Angeles, I… a friend of the family, Augusta Bonnard, who was herself a psychoanalyst, had suggested that I go and see someone. There is quite a story attached to that, but I won't... I won't say it here, and I went reluctantly to see a psychoanalyst there. The psychoanalyst said, 'Well, what brings you here, Dr Sacks?' I said, 'Ask Dr Bonnard, she referred me', and I... I wasn't too helpful. I was also stoned all the while, and... and if one is on amphetamine, you may be very quick and facile and you can form associations and things seem to proceed with miraculous rapidity, but it... it all blows away, it leaves… there's no depth, there's no imprint. Things were utterly different at the beginning of '66 when I sought out an analyst for myself, knowing I was in deep trouble. His name had been given to me by his predecessor in Los Angeles.
Now, I have been seeing Dr Shengold for, well, more than 46 years. I saw him this morning. Perhaps I should say that I am speaking in 2011, and that I first saw him in January of 1966. No doubt this is one of the longest analyses on record – or at least, I like to think so, and I think also we're beginning to get somewhere now. But Shengold and I have grown old together and have gone through life's stages together. I still think of him as Dr Shengold, I would never… I don't even think of his first name, and I am always Dr Sacks to him. The proprieties are always there, but it is because the proprieties are there, that there can be such freedom of communication. And this is something I feel with... with my own patients. They can tell me things, I can ask things, which would not happen in ordinary social intercourse. It's because I am the physician and they are the patient. And... and I think, above all, Shengold has taught me attention, listening, and... and what is sometimes called listening with the third ear, listening what is behind the babble, what... what goes on. I think good doctors have to be almost... almost telepathic, or certainly highly empathic, and... and need sometimes to guess what... what their patients cannot say or may not know consciously.
Oliver Sacks (1933-2015) was born in England. Having obtained his medical degree at Oxford University, he moved to the USA. There he worked as a consultant neurologist at Beth Abraham Hospital where in 1966, he encountered a group of survivors of the global sleepy sickness of 1916-1927. Sacks treated these patients with the then-experimental drug L-Dopa producing astounding results which he described in his book Awakenings. Further cases of neurological disorders were described by Sacks with exceptional sympathy in another major book entitled The Man Who Mistook His Wife For A Hat which became an instant best seller on its publication in 1985. His other books drew on his rich experiences as a neurologist gleaned over almost five decades of professional practice. Sacks's work was recognized by prestigious institutions which awarded him numerous honours and prizes. These included the Lewis Thomas Prize given by Rockefeller University, which recognizes the scientist as poet. He was an honorary fellow of both the American Academy of Arts and Letters and the American Academy of Arts and Sciences, and held honorary degrees from many universities, including Oxford, the Karolinska Institute, Georgetown, Bard, Gallaudet, Tufts, and the Catholic University of Peru.
Title: 'The longest running psychoanalysis on record'
Listeners: Kate Edgar
Kate Edgar, previously Managing Editor at the Summit Books division of Simon and Schuster, began working with Oliver Sacks in 1983. She has served as editor and researcher on all of his books, and has been closely involved with various films and adaptations based on his work. As friend, assistant, and collaborator, she has accompanied Dr Sacks on many adventures around the world, clinical and otherwise.
Tags: Augusta Bonnard, Leonard Shengold
Duration: 4 minutes, 43 seconds
Date story recorded: September 2011
Date story went live: 02 October 2012