NEXT STORY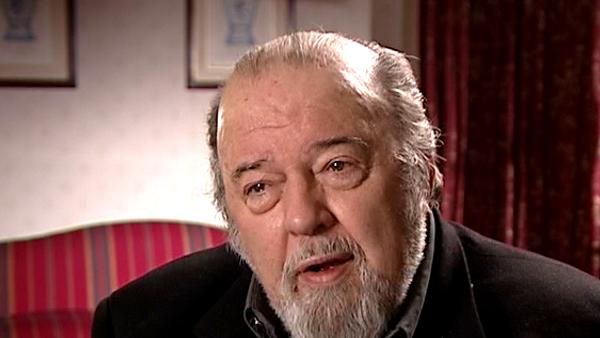 My memorable work
My obsession with theatre

Peter Hall
Theatre director
1
2
3
4
I think that... people like me are extraordinarily lucky in that we do a job that we have an obsession for. I mean I really would sooner go and rehearse a play than go on holiday, just in basic terms. When people say to me, 'Well why do you do so much, why don't you... don't you need time to recharge your batteries?'. All those sort of clichés which are really ways of saying I do a rather boring job and I'm... I'm just longing for another holiday, which alas most people, I suspect, do. I mean I go off to work because I want to and I want to go on doing it and I get paid money to live in Chekov's head for eight weeks... to be alongside Shakespeare. I mean it's extraordinary, I get paid money for doing that. And I... I think it is an obsession — a possession — and it hasn't declined over the years, 53 odd years I've been doing it. It's... it hasn't changed at all, that desire, that excitement and that longing to go on with it. It... it takes a heavy toll which you don't notice. I mean you don't have much spare time; you don't have much spare time for your family actually. If you're running a theatre as well, you can't have. And I think I... I've suffered for that and people around me have suffered. I've been married four times, and I still love everybody. I mean it's... it's not... I haven't moved into the hate quotient or anything like that; I think if you love somebody that remains in some sense.
[Q] By everybody you mean your past wives.
Yes, yes. And there are... there are four people there that I am, in various ways, extremely fond of. The fact that my fourth wife has been the most — as I still live now — marvellous in every respect, doesn't go against the other three.
But it has made it, I suppose... I mean my living, my life, my obsessions, must make it very difficult to live with, I see that. And my children shrug it off rather; they... they giggle and they say, well, we, you know, we knew that's what you... from an early age we knew we didn't see much of you and that's it. And, curiously enough, my eldest son is a... is a television film producer. My oldest daughter's in PR; my second son's a very brilliant director — Edward — now coming into his prime, really fantastic. My daughter Lucy, is a stage designer; my daughter, Rebecca, is in Hollywood making a film at this moment and was a wonderful Rosalind at Bath in As You Like It and I think is going to have a superb career. And then I've got one coming up to 14 who casts her eyes anxiously and... and greedily towards the stage and towards music and towards musicals, but I suspect is going to become a writer, I rather hope, because she writes fluently and wonderfully. But, you know, none of them have I encouraged to go into the business or not to go into the business; I don't think that's my function. They all say that I appear to have so much fun they couldn't resist having a look themselves. So that's something, I suppose.
And I have, you know, it's... it's a very sociable profession. A writer sits down and looks at a blank sheet of paper every morning; I go into a room and 20 faces look at me and say make us do something, go on, go on. So you have to. That compulsion is... I can't say I'll just go out for a cup of coffee; I have to do it and that is the pressure, I think, and the... and the excitement. So I have hundreds of friends, not friends, acquaintances, hundreds of people I've worked with, but very, very few friends. That's partly because it's all so sociable anyway and partly because of time. I've got one or two close friends from days gone by; you and I have been friends for... what, 50 years nearly.
[Q] Yes.
Yes, it's true. So, you know, no complaints on that level but, above all... such a feeling of joy that I have been able to do what I wanted to do. That sounds awfully smug. Most of the work I've done I am, by definition, not satisfied with because, to actually reveal a masterpiece and get it all right, all in its component parts, whether it be an opera or whether... whether it be a play, is almost impossible, almost. But you sort of know, as a director, after the event how near you got to it and I've often got very near it and it hasn't been recognised, and I've often not got very near it and been told I have. I mean so, the only person I can really listen to finally, in all humility, is me. And... last year I did Waiting for Godot at Bath and that's the nearest I've ever got to that play and it's also the nearest I've ever seen anybody get to that play. And I got such a charge from that. But that's only happened to me probably half a dozen times in 50 years. It doesn't mean all the rest of the work was... was... nothing but it does mean just how near did you get to the author. That's the only way I can describe it, how near did you get to what they were at, what they were asking for and what they were demanding. It's a heavy responsibility and... and the easy way out is to say, well, you know, I had this dream and I... I dreamt of a production which was really up to the minute and everyone was on motor bikes and... and you make a whole fantasy, a kind of Fellini like fantasy which ones sees all the time. And you think, well, I'm not really very interested in... in directors' subjective reactions; I'd like their... I'd like them to tell me what they think of this play, in... in much more complex terms. It's very easy to have concepts.
[Q] Or to show me this play.
Show me this play. It's very easy to have concepts; it's much easier to have concepts than to show someone the play.
British-born theatre director, Sir Peter Hall (1930-2017), ran the Arts Theatre where, in 1955, he directed the English-language premiere of 'Waiting for Godot' by Samuel Beckett. He also founded the Royal Shakespeare Company when he was only 29, and directed the National Theatre from 1973 to 1988. He was at the Shakespeare Memorial Theatre in Stratford-on-Avon for two season from 1957-1959. He also directed 'Akenfield' for London Weekend Television and ran the Peter Hall Company, which has 40 productions worldwide to its name. In 1963, he was appointed Commander of the Order of the British Empire (CBE) and in 1977 was knighted for his contribution to the theatre. In 1999, he was also honoured with a Laurence Olivier Award.
Title: My obsession with theatre
Listeners: John Goodwin
Head of Press at the National Theatre (1974-1988), and earlier at the RSC (1960-1974), John Goodwin is the author of a best-selling paperback, A short Guide to Shakespeare's Plays, and co-author of Trader Faulkner's one-man show, Losing My Marbles. He is also editor of the play, Sappho, based on Alphonse Daudet's novel, and editor of a number of successful books, among them, Peter Hall's Diaries, and, British Theatre Design - the modern age.
Tags: Hollywood, Bath, Royal Theatre Bath, As You Like It, Waiting For Godot, Anton Chekov, William Shakespeare, Edward Hall, Lucy Hall, Rebecca Hall, Rosalind, Federico Fellini
Duration: 7 minutes, 19 seconds
Date story recorded: February 2006
Date story went live: 24 January 2008