NEXT STORY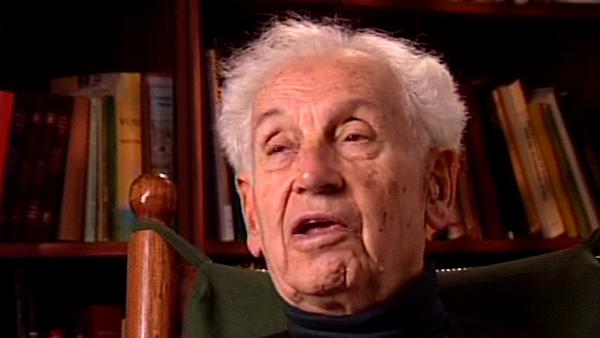 Differences between living organisms and inanimate matter
Problems of the philosophy of biology

1
...
11
12
13
14
15
As I got deeper and deeper into the history of biology, and in particularly in connection with my Darwin studies, I became more and more in contact with problems of philosophy. And, as I studied and I started to read the philosophic literature, the leading so-called philosophers of science, I began to subscribe to philosophical journals and I was dismayed and distressed that the real problems of biology were not mentioned by anybody, they were not treated by anybody. And what was called philosophy of science wasn't philosophy of science at all, it was philosophy of a mixture of physics, mathematics and logic, and much of it totally unsuitable for biology. And I finally got quite angry and I think it was in 1967 or thereabouts that I gave a lecture to the… at a AAAS [American Association for the Advancement of Science] meeting in Berkeley… no, it was in Los Angeles, in California, in which I lashed out against the philosophers – this was in a philosophical symposium – saying, 'You're talking about philosophy of science and it's nothing but philosophy of physics'. And there was something rather amusing, the next speaker after me was a astronomer who constantly said, 'Philosophy of science, I mean of physics'. He was sufficiently scared by my angry outburst that he didn't dare to use the word philosophy of science when he really meant philosophy of physics. Well, it took another two or three years before this paper of mine was published. In the meantime I continued to do more reading and more thinking about it and I gradually realized that I myself, already, had greatly contributed toward the development of a philosophy of biology.
The late German-American biologist Ernst Mayr (1904-2005) was a leading light in the field of evolutionary biology, gaining a PhD at the age of 21. He was also a tropical explorer and ornithologist who undertook an expedition to New Guinea and collected several thousand bird skins. In 1931 he accepted a curatorial position at the American Museum of Natural History. During his time at the museum, aged 37, he published his seminal work 'Systematics and Origin of the Species' which integrated the theories of Darwin and Mendel and is considered one of his greatest works.
Title: Problems of the philosophy of biology
Listeners: Walter J. Bock
Walter J. Bock is Professor of Evolutionary Biology at Columbia University. He received his B.Sc. from Cornell and his M.A. and Ph.D. from Harvard. His research lies in the areas of organismal and evolutionary biology, with a special emphasis on functional and evolutionary morphology of the skeleto-muscular system, specifically the feeding apparatus of birds.
Tags: 1967, American Association for the Advancement of Science, Berkeley, Los Angeles, California, Charles Darwin
Duration: 2 minutes, 25 seconds
Date story recorded: October 1997
Date story went live: 24 January 2008