NEXT STORY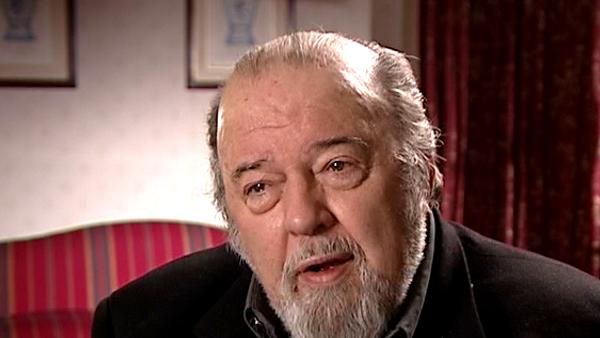 Musicals: 'nice escapist bilge'

Peter Hall
Theatre director
1
2
3
4
I've had my toe in the water of films quite often and I've done... you know, a reasonable amount of television, She's Been Away — the Poliakoff film — Camomile Lawn. And I... I love working with the camera; there are things that I've never quite felt at ease with. One is the fact that in the theatre I'm used to challenging an actor — albeit often in a very gentle way, I hope — with finding things in himself or herself for this part, you know, and we have four, five, sometimes six weeks, in order to find that, and it's quite an interesting psychological journey. If you do that on a film set you photograph the initial agony. In other words, on a film set you've got to more or less accept what people are and what they do. You can't push it around because you photograph the strain, not the achievement. And the thing that's always fascinated me about film is its ability obviously, to capture forever, we hope, the moment.
So I mean the two films I'm proudest of, I mean...I suppose, one was The Homecoming which was a Harold Pinter play which was done with the cast which had played it on... in London and on Broadway for a long while. So I mean the play was absolutely part of their bloodstream so we were able to translate it into screen terms very speedily and very lightly and I think lost very little, and I like that film. And the other film which is something absolutely different was Akenfield which was... I mean, this is a vanished age indeed, early '70s. Cyril Bennett, who was then the Controller of London Weekend Television, asked me if I'd like to do something and I said I'd just read this book by Ronald Blythe called Akenfield and it's set in Suffolk where I was born and it seemed I could hear my grandfather talking. And he said, 'Well, think how you could make a film for us out of it'. So Ronny and I did an 18 page treatment, 18 pages only, not a script. And on the strength of 18 pages and the fact that we were going to film it at weekends, with real people in Suffolk improvising, he gave me £100,000 and said come back in a year with the film, which would not happen in these days; there would be several accountants' meetings and a great deal of carry-on but that is what we did. And for one year we went on the 06:05 train from Liverpool Street down to Ipswich; the unit was a sort of floating group of people who happened to have Saturday and Sunday off, and they... they came and we returned on a Sunday night and I ended up with about 48 hours of film and then made it into... it was all improvised on situations and it... it's magical that film can capture somebody inventing something and saying something. Of course what amateurs cannot do is repeat it and you mustn't ask them to. So whatever you get, you hold and you develop on from there.
[Q] So you had no professional actors at all?
None at all, none at all. And the other... I mean...
[Q] All local people.
All local people and it was... it was a wonderful time for me being back in the area where I was born and... you know, I could hear all my family and that Suffolk accent. I just... it was... it was a wonderful experience. It's...
[Q]Who wrote the music for it?
Well, I was just going to get onto that because originally the music was supposed to be by Benjamin Britten who hadn't done a film score since The Royal Mail [sic] in the '30s. And he said he would do it and then alas, he had his heart attack and it never happened, he couldn't do it. But I used Michael Tippett's concerto on a Corelli theme which is a very lush, romantic, but neurotic piece... beautiful piece. And Michael was a great friend; I did The Knot Garden at Covent Garden and Ice Break at Glyndebourne. I miss him very much. And I just did Midsummer Marriage in Chicago so... Tippett's been an important influence on me. Britten, I didn't know well but that is a sadness that he didn't do that. He asked me to do the very first production of A Midsummer Night's Dream but... in 1960... but I was... I was in the midst of starting the RSC so I couldn't. But I did it much later and next year it's... this year it's on at Glyndebourne for the 24th year, I think, 24 years.
British-born theatre director, Sir Peter Hall (1930-2017), ran the Arts Theatre where, in 1955, he directed the English-language premiere of 'Waiting for Godot' by Samuel Beckett. He also founded the Royal Shakespeare Company when he was only 29, and directed the National Theatre from 1973 to 1988. He was at the Shakespeare Memorial Theatre in Stratford-on-Avon for two season from 1957-1959. He also directed 'Akenfield' for London Weekend Television and ran the Peter Hall Company, which has 40 productions worldwide to its name. In 1963, he was appointed Commander of the Order of the British Empire (CBE) and in 1977 was knighted for his contribution to the theatre. In 1999, he was also honoured with a Laurence Olivier Award.
Title: Working in film and TV
Listeners: John Goodwin
Head of Press at the National Theatre (1974-1988), and earlier at the RSC (1960-1974), John Goodwin is the author of a best-selling paperback, A short Guide to Shakespeare's Plays, and co-author of Trader Faulkner's one-man show, Losing My Marbles. He is also editor of the play, Sappho, based on Alphonse Daudet's novel, and editor of a number of successful books, among them, Peter Hall's Diaries, and, British Theatre Design - the modern age.
Tags: RSC, She's Been Away, Camomile Lawn, The Homecoming, London, Broadway, Akenfield, 1970s, London Weekend Television, Suffolk, Liverpool Street Station, Ipswich, 1930s, The Knot Garden, COvent Garden, Royal Opera House, Ice Break, Glyndebourne, Midsummer Marriage, A Midsummer Night's Dream, 1960, Stephen Poliakoff, Harold Pinter, Cyril Bennett, Ronald Blythe, Benjamin Britten, Michael Tippett
Duration: 5 minutes, 38 seconds
Date story recorded: February 2006
Date story went live: 24 January 2008