NEXT STORY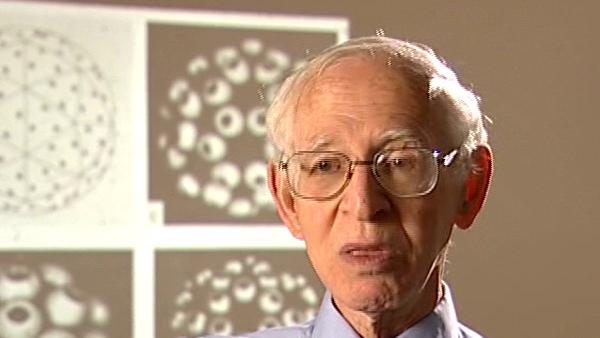 Finding work at Cambridge
Meeting my wife and moving to Cambridge

1
2
3
4
5
...
12
Cape Town was pretty interesting because in Cape Town was an old city, very different from Durban or Johannesburg, and there one met artists and writers and so on and I was interested in all these things.
[Q] Where did you meet Liebe?
And there I met my wife, my future wife, and she... she was then... she had... she was at the College of Music attached to the university but she had decided that she wanted to become a modern dancer. And there was a woman who'd started a group for a kind of contemporary dance group and Liebe joined her, so I met her there. And, in fact, on the basis of the scholarship I got to Cambridge. We got married very young and we came to England together. And I'd to go to Cambridge and she thought she was going to go to the... the Joos-Leeder, which was a German dance school. She had been... left Germany in the Hitler period and... and during the war and been evacuated to Cambridge and they lived in the... worked in the House of the Roughtons, very interesting figure in Cambridge. And Mrs Roughton was a kind of patron of all sorts of unusual things and so she housed them. But when we arrived there the Joos-Leeder School had moved to London, so it was...
[Q] James connection with Bragg that sort of pointed you towards...
Yes, James, James, that's right, yes, that's right.
[Q] You didn't write up your PhD?
I never wrote it up, and the... it was because I got involved in other things and I didn't have to at the time. I did start, I have a half... I have a half-written thesis. But I published the two papers on triphenylene and acta crystallographica so I had some real publications by then.
Born in Lithuania, Aaron Klug (1926-2018) was a British chemist and biophysicist. He was awarded the Nobel Prize in Chemistry in 1982 for developments in electron microscopy and his work on complexes of nucleic acids and proteins. He studied crystallography at the University of Cape Town before moving to England, completing his doctorate in 1953 at Trinity College, Cambridge. In 1981, he was awarded the Louisa Gross Horwitz Prize from Columbia University. His long and influential career led to a knighthood in 1988. He was also elected President of the Royal Society, and served there from 1995-2000.
Title: Meeting my wife and moving to Cambridge
Listeners: Ken Holmes John Finch
Kenneth Holmes was born in London in 1934 and attended schools in Chiswick. He obtained his BA at St Johns College, Cambridge. He obtained his PhD at Birkbeck College, London working on the structure of tobacco mosaic virus with Rosalind Franklin and Aaron Klug. After a post-doc at Childrens' Hospital, Boston, where he started to work on muscle structure, he joined to the newly opened Laboratory of Molecular Biology in Cambridge where he stayed for six years. He worked with Aaron Klug on virus structure and with Hugh Huxley on muscle. He then moved to Heidelberg to open the Department of Biophysics at the Max Planck Institute for Medical Research where he remained as director until his retirement. During this time he completed the structure of tobacco mosaic virus and solved the structures of a number of protein molecules including the structure of the muscle protein actin and the actin filament. Recently he has worked on the molecular mechanism of muscle contraction. He also initiated the use of synchrotron radiation as a source for X-ray diffraction and founded the EMBL outstation at DESY Hamburg. He was elected to the Royal Society in 1981 and is a member of a number of scientific academies.
John Finch is a retired member of staff of the Medical Research Council Laboratory of Molecular Biology in Cambridge, UK. He began research as a PhD student of Rosalind Franklin's at Birkbeck College, London in 1955 studying the structure of small viruses by x-ray diffraction. He came to Cambridge as part of Aaron Klug's team in 1962 and has continued with the structural study of viruses and other nucleoproteins such as chromatin, using both x-rays and electron microscopy.
Tags: Cambridge, Cape Town
Duration: 2 minutes, 3 seconds
Date story recorded: July 2005
Date story went live: 24 January 2008